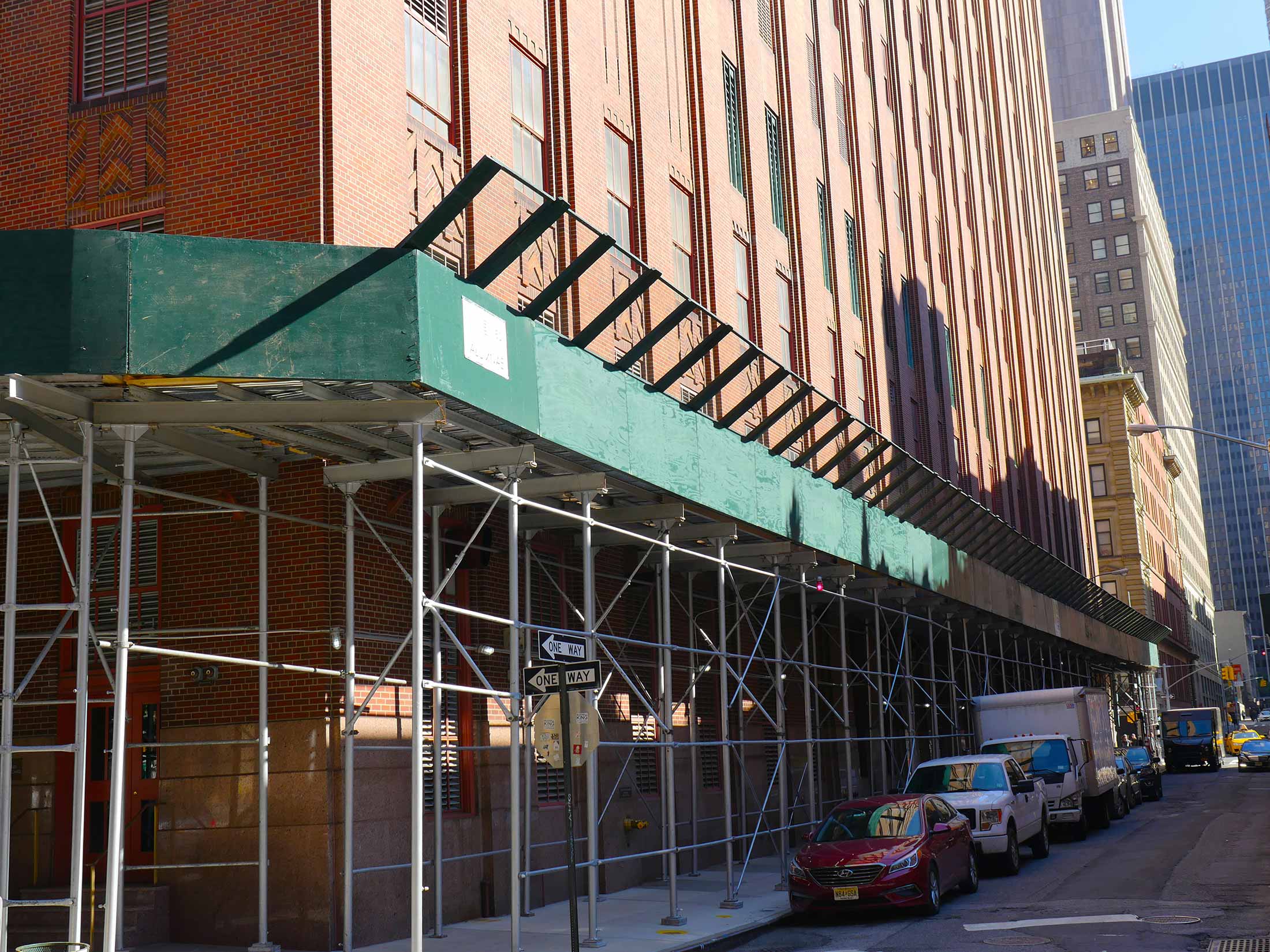 About the project:
In New York City, sidewalk sheds are deployed for new construction, building alterations, and as part of Local Law 11 Facade Inspection regulations. Local media, politicians, and citizens commonly comment on the negative impacts sheds have on the local community. However, it has not been quantified or empirically measured if sheds actually adversely impact the community. Through considering 311 complaints and NYPD crime data, it is explored if there is evidence to support the claim that sheds have negative impacts on communities. While it is not found that there is conclusive evidence that sidewalk sheds consistently have negative impact communities, improved data sources would likely allow for a more nuanced and concrete answer. To aid in facilitating NYC Department of Buildings work of overseeing sheds and prioritizing what sheds are most in need of attention, complaint and violation data is combined from multiple sources to create a prototype ranking system that highlights sheds that may be problematic or in need of intervention.
Datasets Used:
Related Work
Sponsor
Mentor
Dr. Debra Laefer
Profile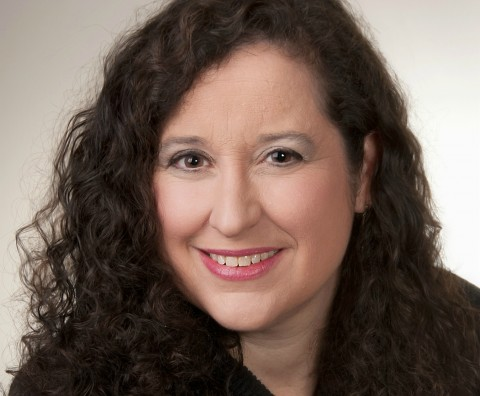 NYU CUSP 2018 Capstone Projects
For more information visit this link
Results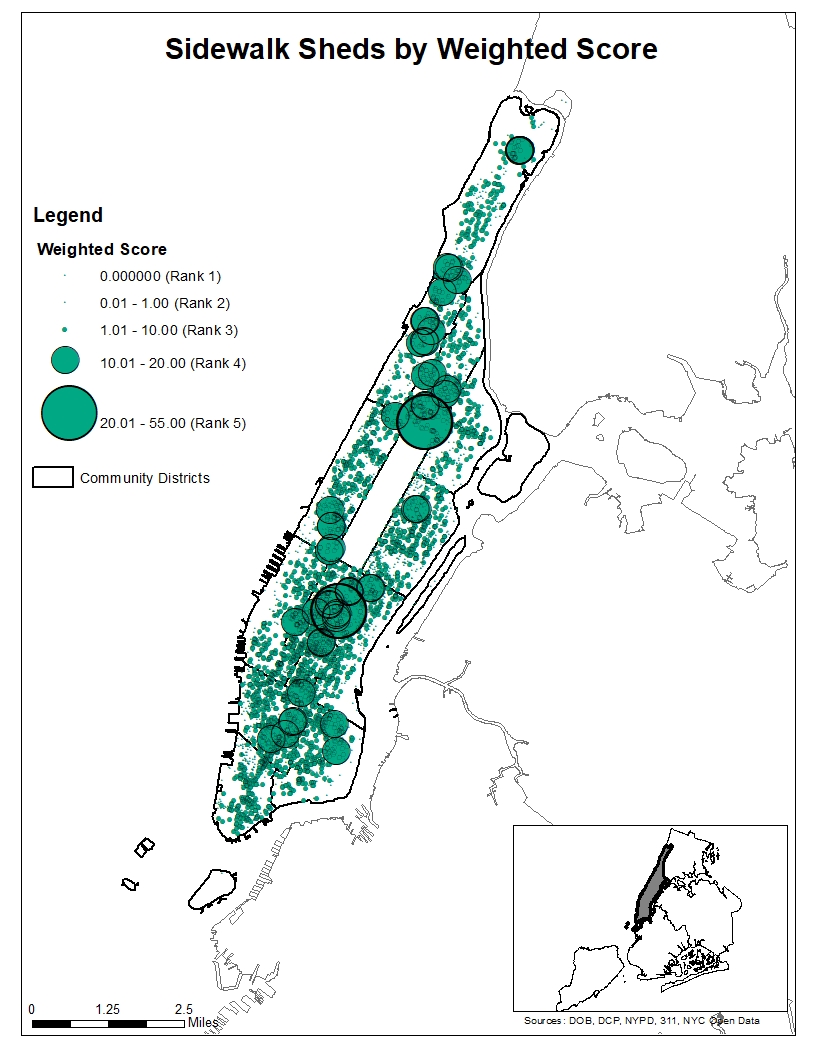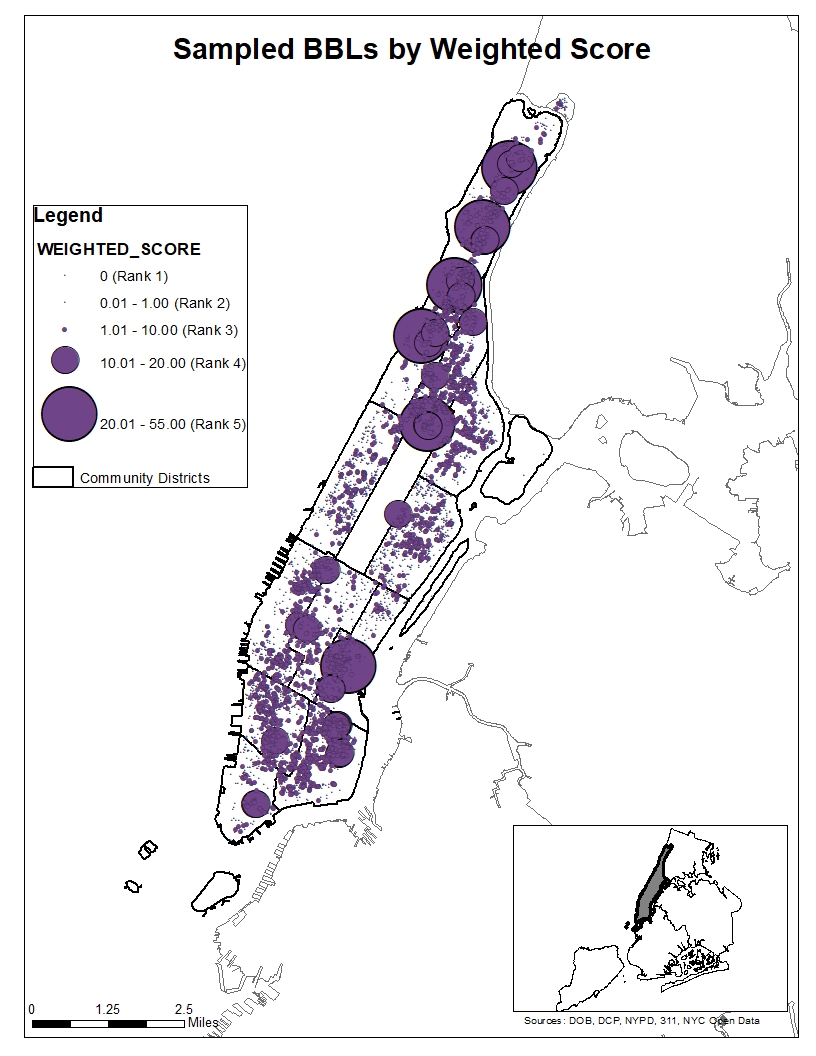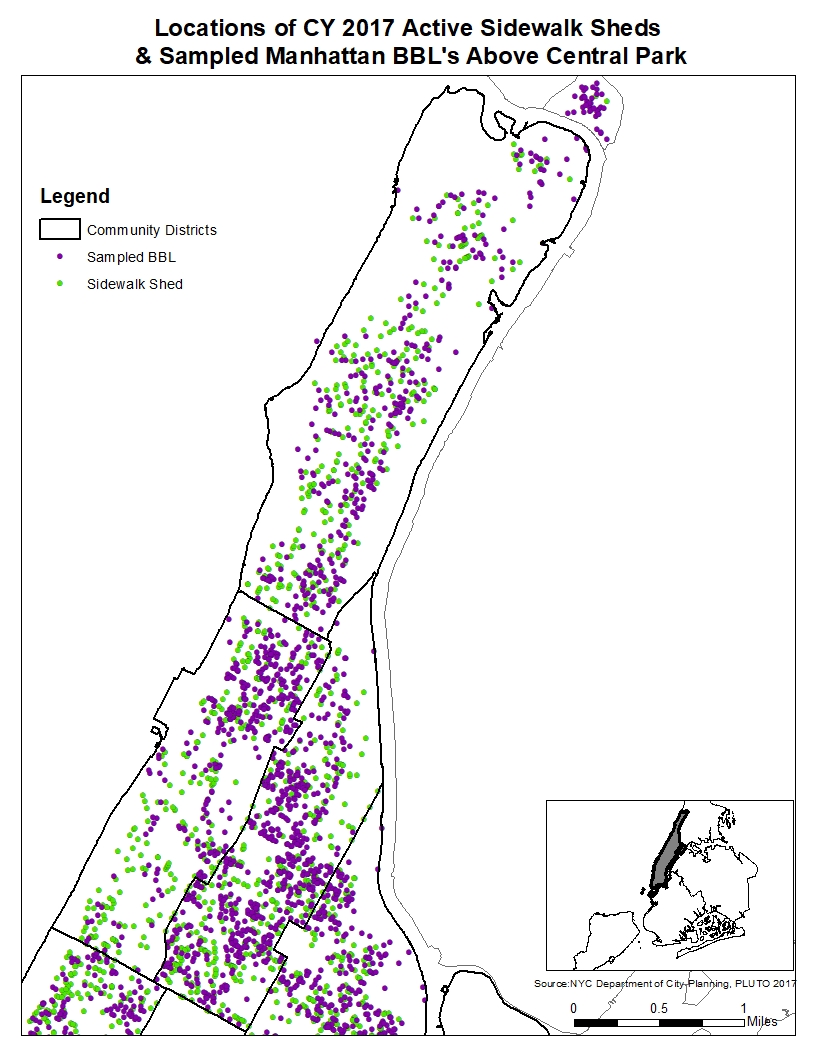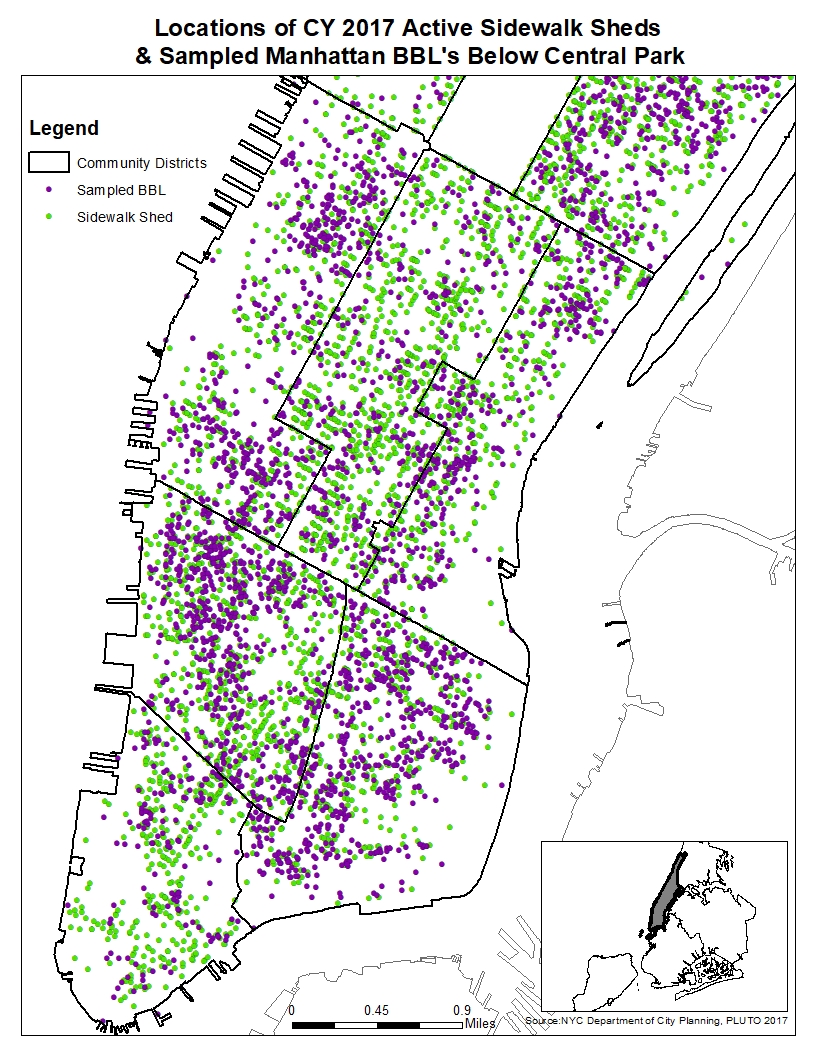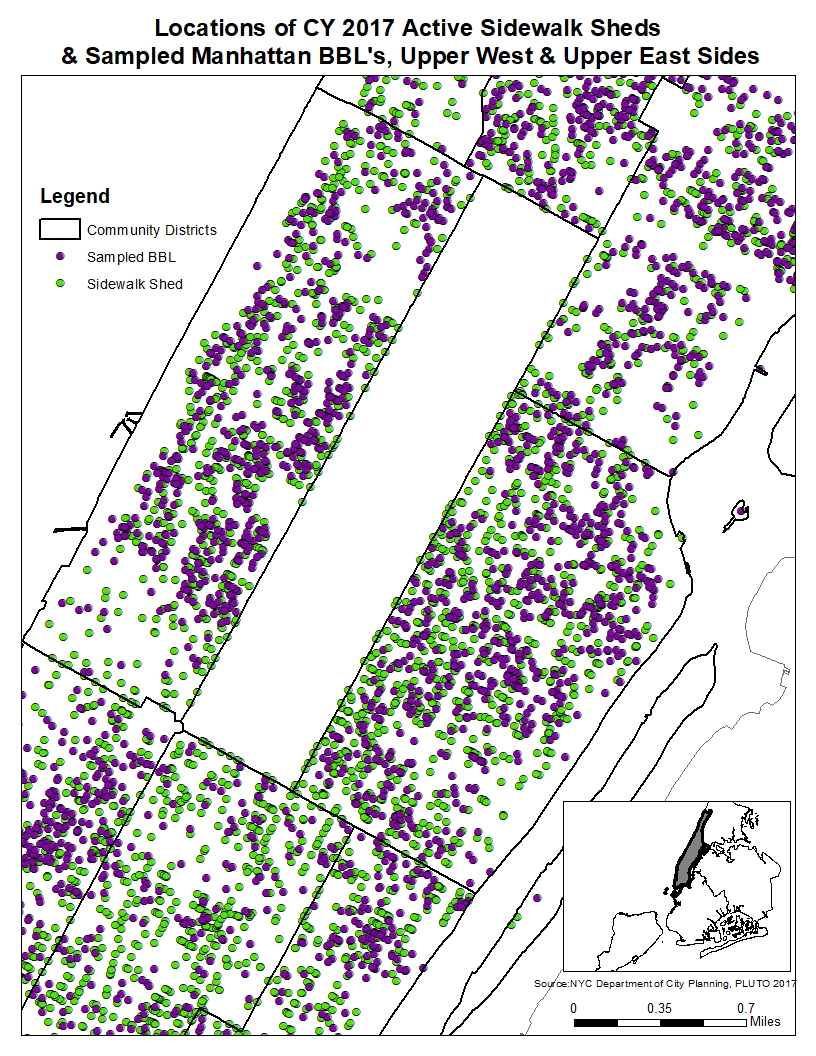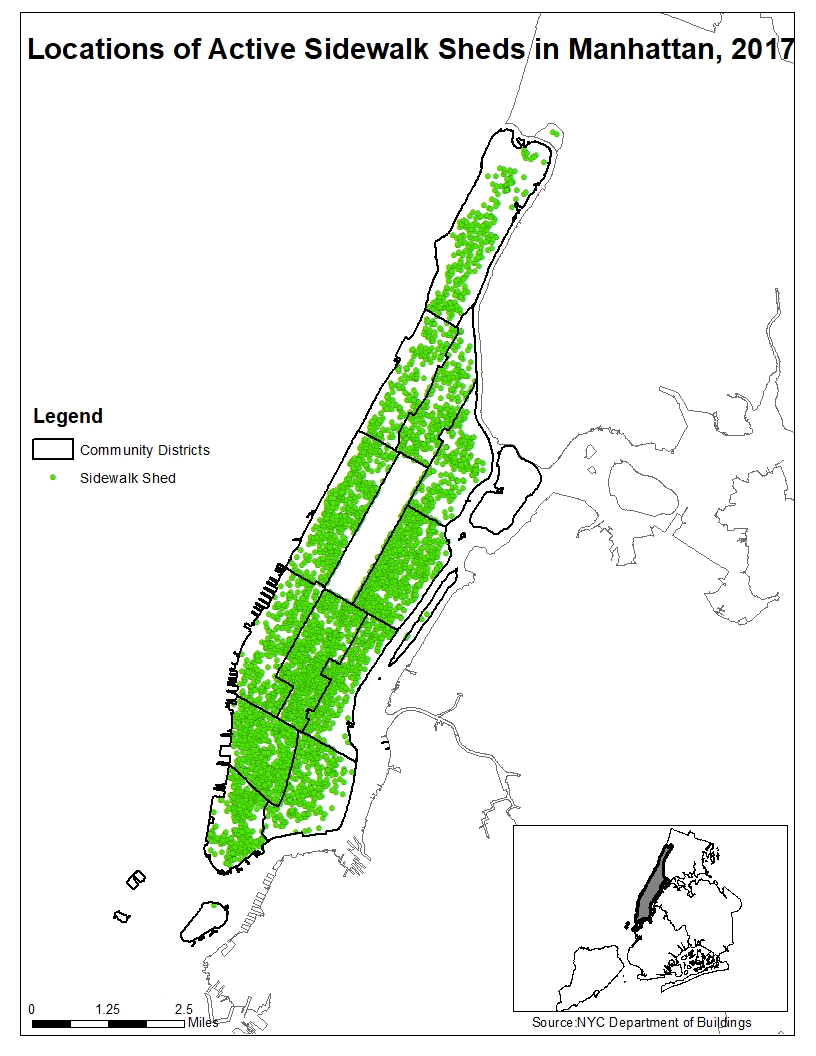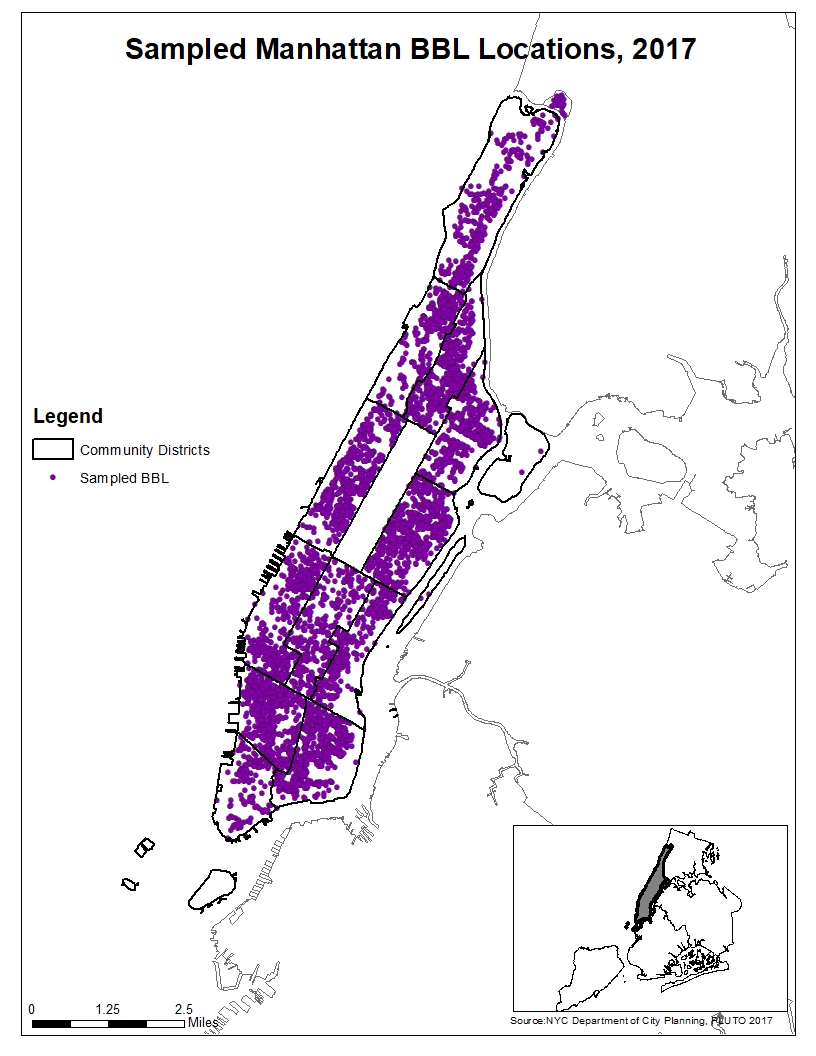 Report
Click here to view the report
Meet our team: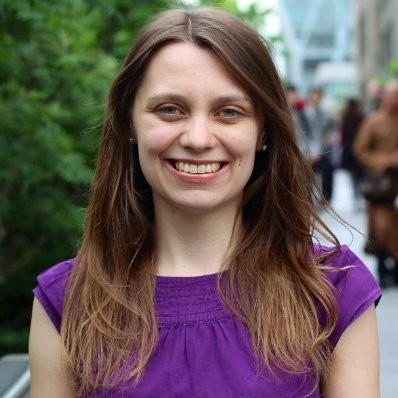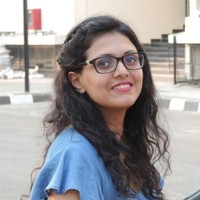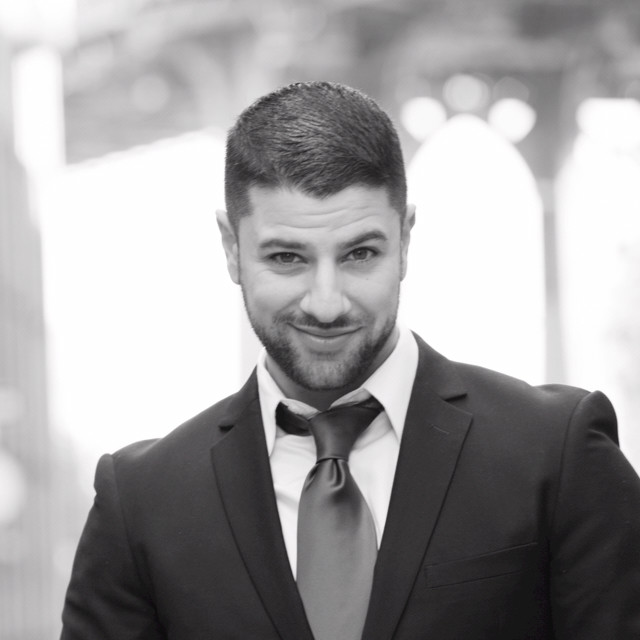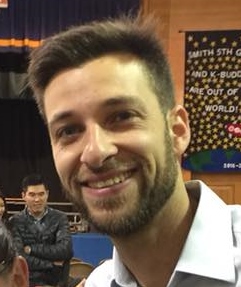 References
Cuthbertson, C. (2016) Scaffolding a Curse for Many Retail Stores.The Epoch Times. September 16, 2016. https://www.theepochtimes.com/scaffolding-a-curse-for-many-retail-stores_2155495.html
Elstein, A. (2016) The law that created the billion-dollar scaffold industry has turned city sidewalks into an obstacle course. Crains New York. January 4, 2016. http://www.crainsnewyork.com/article/20160124/REAL_ESTATE/160129960/scaffolds-are-everywhere-in-new-york-city
Fanelli, J. (2014). Scaffolding Is 'Kiss of Death' for Business, BLT Fish Says. DNAInfo. https://www.dnainfo.com/new-york/20140528/flatiron/blt-fish-says-neighboring-scaffold-is-kiss-of-death-for-business/#slideshow-carousel
Guse, C. (2018) New map shows the ridiculous amount of obstructed sidewalks in NYC. TimeOut New York. April 12, 2018. https://www.timeout.com/newyork/news/new-map-shows-the-ridiculous-amount-of-obstructed-sidewalks-in-nyc-041218
Hoffer, J. (2017) Investigation into sidewalk sheds up for more than a decade in NYC. ABC 7 NY. November 22, 2017. http://abc7ny.com/exclusive-sidewalk-sheds-up-for-more-than-a-decade-plague-nyc/2684034/
Hu, W. (2016) Sidewalk Scaffolding, the Unwanted Neighbor, Is Under Scrutiny. New York Times. December 5, 2016. https://www.nytimes.com/2016/12/05/nyregion/sidewalk-scaffolding-the-unwanted-neighbor-is-under-scrutiny.html
Hu, W. (2017) New York Has 280 Miles of Scaffolding, and a Map to Navigate It. New York Times. May 2, 2017. https://www.nytimes.com/2017/05/02/nyregion/new-york-has-280-miles-of-scaffolding-and-a-map-to-navigate-it.html
Kallos, B. (2018) Fight to Get Scaffolding Down Continues in Second Term with Reintroduction by Council Member Ben Kallos. January 30, 2018. BenKallos.com https://benkallos.com/press-release/fight-get-scaffolding-down-continues-second-term-reintroduction-council-member-ben
Kolomatsky, M. (2018) All the City's Sidewalk Sheds. New York Times. https://www.nytimes.com/2018/06/14/realestate/sidewalk-construction-sheds-daily-count.html
Lueck, T. (1989) Those Stay-Forever Sidewalk Bridges. New York Times. November 19, 1989. https://www.nytimes.com/1989/11/19/realestate/those-stay-forever-sidewalk-bridges.html
NYC DOB Sidewalk Sheds. Active Sidewalk Shed Permits Map. Accessed July 24, 2018. https://www1.nyc.gov/assets/buildings/html/sidewalk-shed-map.html
NYC Hospitality Alliance. Scaffolding. Accessed June 9, 2018. https://www.thenycalliance.org/government-affairs/scaffolding
New York Times Editorial Board (2017) New York, a City Encased in Scaffolding. May 10, 2017. https://www.nytimes.com/2017/05/10/opinion/new-york-a-city-encased-in-scaffolding.html
Malo, S. (2014) These Shoddy Sidewalk Sheds Are Disasters Waiting To Happen. Huffington Post. June 3, 2014.https://www.huffingtonpost.com/2014/06/03/new-york-sidewalks-shoddy-sheds-_n_5440198.html
Mueller, B. (2014) 10 Years On, Scaffolding in Harlem Is Still a Shelter for Noxious Acts. New York Times. September 2, 2014. https://www.nytimes.com/2014/09/03/nyregion/a-decade-on-a-sidewalk-shed-is-still-an-unwanted-shelter.html
Pereira, I. (2018) Sidewalk sheds in NYC stretch almost 270 miles, according to new map by the DOB. April 11, 2018. https://www.amny.com/news/sidewalk-sheds-map-1.17983804
The Real Deal. (2017) Cure is worse than the disease for sidewalk shed problem, REBNY and city say. November 3, 2017. https://therealdeal.com/2017/11/03/cure-is-worse-than-the-disease-for-sidewalk-shed-problem-rebny-and-city-say/
Rizzi, N. (2018) Scaffolding Collapse In Downtown Brooklyn Injures 3, Police Say. April 16, 2018. https://patch.com/new-york/heights-dumbo/scaffolding-collapse-downtown-brooklyn-injures-3-police-say
Rogers, T. (2009) Crime and scaffolding. Brick Underground. May 28, 2009. https://www.brickunderground.com/blog/2009/04/crime_and_scaffolding
Siff, A. (2017) Scaffolding Collapses in SoHo, Injuring 5 People. NBC New York. November 19, 2017. https://www.nbcnewyork.com/news/local/SoHo-Scaffolding-Collapse-East-Houston-Broadway–458636123.html
Walker, A. (2017) Bill to regulate lifespan of NYC's many sidewalk sheds moves forward. Curbed New York. November 4, 2017. https://ny.curbed.com/2017/11/4/16606408/nyc-sidewalk-shed-scaffolds-bill-proposal
Wang, L., Qian, C., Kats, P., Kontokosta, C., Sobolevsky, S. (2017) Structure of 311 service requests as a signature of urban location. PLOS ONE 12.
WJE Engineers. Facade Ordinances. Accessed April 28, 2018. http://www.facadeordinance.com/